Last weekend we celebrated my wifes b-day.  She is 21 (again).  We saw Rock of Ages on Broadway, it was freaking awesome.  After the show who do we meet in the Pizza shop?  LITA FORD.  Here is a pic of her, my wife, and Ms. P.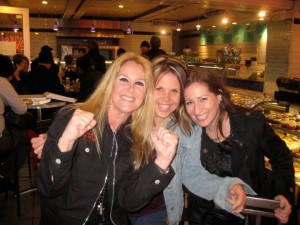 Today is April 13th and my brother turns 40!  Wow….. go to www.deathstarinc.com for his b-day post.
It was a fun weekend, it's only Tuesday and I am tired, let's hope more coffee helps.